Posts for tag: root canal
By North Creek Dental Care of Naperville
September 08, 2016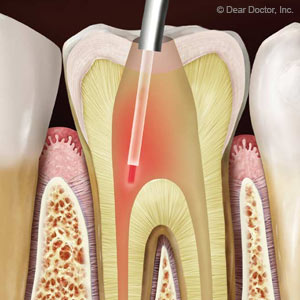 Root canal treatments are an essential part of dental care — countless teeth with deep decay would be lost each year without it. Now, this traditional dental care procedure is advancing to a new level of precision through lasers.
Root canal treatments have a simple goal: access a tooth's infected pulp and root canals, clean out the infected tissue and fill the empty pulp chamber and canals with a special filling. Once filled, the access is sealed and a porcelain crown later placed for additional protection against re-infection.
In the traditional procedure, we perform these steps manually with a dental drill and hand instruments. We may also need to remove a good portion of tooth structure, both healthy and infected tissue. A laser, on the other hand, is a highly focused beam of light with the ability to interact with healthy and infected tissues differently: destroying infected tissue while having no effect on nearby healthy tissue. The end result: we may be able to remove less healthy tissue with lasers than with the conventional procedure.
Lasers are also helpful with softening and precisely molding the filling material within each canal's particular shape. And, early reports seem to indicate a higher degree of comfort for patients (less drill noise and need for anesthesia), less bleeding and faster recovery times than the conventional approach.
But as a tool for root canal treatments, lasers do have a couple of disadvantages. While light travels in a straight line, root canals are rarely straight — conventional instruments with curved designs usually accommodate odd canal shapes better than a laser. Lasers can also raise temperatures within a tooth that can damage healthy tissue, both within the pulp and outward into the dentin.
Still, lasers for root canal treatments appear promising with some dentists using a combination of lasers and manual techniques to garner benefits from both approaches. While you won't see lasers replacing the traditional root canal treatment anytime soon, the future looks bright for more efficient ways to treat deep tooth decay.
If you would like more information on your options for root canal therapy, please contact us or schedule an appointment for a consultation.
By North Creek Dental Care of Naperville
January 29, 2015
As the Boy Scouts say, it's best to be prepared. You may never have a traumatic injury to your teeth. But what if you do? Here are four questions and answers about such injuries and their treatment that may be helpful some day.
What are traumatic injuries?
We are talking about physical damage caused by a fall, an accident, or a blow to the face. The word trauma comes from the Greek root meaning "wound."
A traumatic injury can also cause broken, cracked, or split teeth, or a fracture to the root of the tooth. A tooth may be dislodged from its proper position, pushed sideways, out of or deeper into its socket. It may even be completely knocked out of your mouth.
What should you do if your tooth is knocked out?
With proper treatment, the tooth can be restored to its original place. You must handle the tooth gently and seek professional help as soon as possible. Rinse the tooth in cold water if it is dirty, but do not use any cleaning agent. Avoid touching the root. While hurrying to your dentist, keep the tooth from drying out by keeping it in a container of milk or of your saliva, or by holding it in your mouth between gum and cheek. It is vital to keep the tooth's living tissues moist until it can be professionally assessed and replanted in its socket. If a tooth has been dislodged but not knocked out, it must be repositioned in its socket and may be stabilized with a splint.
Who can treat a tooth that is damaged by a traumatic injury?
A general dentist, an oral surgeon or an endodontist is trained to treat such injuries. An endodontist is trained to treat the root canal(s) inside a tooth. The word comes from "endo" the Greek word for "inside," and "odont," the word for "tooth." After a tooth is replaced in its socket and stabilized, root canal treatment is often needed.
What is root canal treatment?
A tooth is composed mostly of dentin, a living tissue. The top part or crown is covered by hard mineralized enamel. The soft tissue inside the tooth, the pulp, contains blood vessels, nerves and connective tissues. It extends from the crown to the tip of the roots. Treatment of dental pulp injuries is called root canal or endodontic treatment and is usually needed to treat teeth that have been dislodged or fractured.
Contact us today to schedule an appointment to discuss your questions about injuries to teeth and related nerve damage. You can also learn more by reading the Dear Doctor magazine article "Trauma & Nerve Damage to Teeth."