Posts for: October, 2017
By North Creek Dental Care of Naperville
October 28, 2017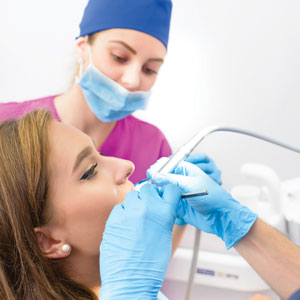 So, you've undergone a root canal treatment to save a decayed tooth. The tooth has a new lease on life — and the pain is gone too. But there's a reality you need to keep in mind — your tooth could become re-infected, putting you back in the same painful circumstance.
Root canal treatments are often necessary when decay works its way deep within a tooth, into the pulp. The excruciating pain a person feels is the infection attacking the bundle of nerves within the pulp tissue. If the infection isn't addressed promptly, it will continue to work its way to the root, eventually damaging the tooth beyond repair.
During a root canal treatment, we drill into the tooth to access the pulp chamber. After clearing it completely of its infected tissue, we then fill the chamber and root canals with a special filling and then seal off the access. A short time later we'll bond a crown over the tooth to protect it and to make it more attractive.
Most of the time, this preserves the tooth for many years. Occasionally, though, re-infection can occur. There are a number of reasons why: the first infection may have been more extensive than thought; the root canal network was more complex and some tinier canals weren't able to be identified; or the protective crown may once again get tooth decay contaminating the root canal.
If infection does reoccur it doesn't mean the tooth is lost. It's possible a second root canal treatment can successfully correct any problems, especially those that may not have been detected the first time. More complex cases might also require the services of an endodontist, a specialist in root canals. They're skilled in advanced techniques and have specialized equipment to handle even the most complicated root canal networks.
In the meantime, if you notice signs of re-infection like pain or swelling around a treated tooth, contact us promptly for an appointment. You should also contact us if the tooth is injured in an accident. The sooner we can treat your tooth, the more likely the second time will be more successful.
If you would like more information on preserving a tooth through root canal treatment, please contact us or schedule an appointment for a consultation. You can also learn more about this topic by reading the Dear Doctor magazine article "Root Canal Treatment: How long will it Last?"
By North Creek Dental Care of Naperville
October 13, 2017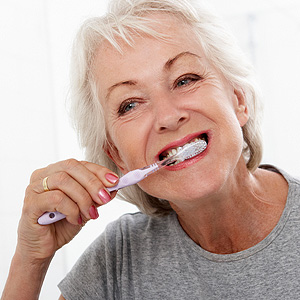 So, you've just acquired an attractive restoration with dental implants. You may be thinking at least with these teeth you won't have to worry about dental disease.
Think again. While the implants and their porcelain crowns are impervious to decay the surrounding gums and bone are still vulnerable to infection. In fact, you could be at risk for a specific type of periodontal (gum) disease called peri-implantitis (inflammation around the implant).
Bacterial plaque, the thin bio-film most responsible for gum disease, can build up on implant crowns just as it does on natural tooth surfaces. If it isn't removed with daily brushing and flossing and regular dental cleanings the bacteria can trigger an infection in the gums.
Besides weakening gum tissues, gum disease can also cause bone loss, of critical importance to dental implants. An implant depends on the bone they're inserted in to hold them in place. If the bone around an implant becomes infected it could begin to be lost or dissolve (resorb), which could lead to loss of the implant.
That's why it's critical to keep the natural tissue structures supporting your implants infection-free. Not only is daily hygiene a must, but your implants and any remaining natural teeth should undergo professional cleaning at least twice a year or more if your dentist recommends it.
Cleanings involving implants will also be a bit different from natural teeth. While the dental materials used in the crown and implant post are quite durable, regular cleaning instruments can scratch them. Although tiny, these scratches can become hiding places for bacteria and increase your risk of infection.
To avoid this, your hygienist will use instruments (known as scalers and curettes) usually made of plastics or resins rather than metal. The hygienist may still use metal instruments on your remaining natural teeth because their enamel can tolerate metal without becoming scratched creating a smoother surface.
While keeping implants clean can sometimes be a challenge, it's not impossible. Implants on average have a long-term success rate above 95%. With both you and your dentist caring and maintaining these state-of-the-art restorations, you may be able to enjoy them for decades.
If you would like more information on caring for dental implants, please contact us or schedule an appointment for a consultation. You can also learn more about this topic by reading the Dear Doctor magazine article "Dental Implant Maintenance: Implant Teeth must be Cleaned Differently."