Posts for: April, 2015
By North Creek Dental Care of Naperville
April 24, 2015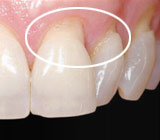 Q: Why should I consider cosmetic gum surgery to improve my smile?
A: If you're looking to enhance the natural beauty of your smile, you may have heard about various cosmetic procedures that can improve the appearance of your teeth. But don't forget about the other, equally important element of a bright, appealing smile: the healthy-looking and well-proportioned gums that surround and support those pearly whites. Many times, cosmetic flaws are caused by gum tissue that's covering too much or too little of the tooth's surface; in other situations, the gum line is uneven, and covers some teeth more than others. Cosmetic gum surgery can successfully remedy these imperfections.
Q: How exactly does cosmetic gum surgery resolve smile defects?
A: There are several minor surgical procedures that may be recommended, depending on what's best for your individual situation. For example, some people have a "gummy smile," where teeth seem excessively "short" because they're covered with too much gum tissue. In this case, a "crown lengthening" procedure can be performed, where gum tissue (and perhaps a small amount of bone tissue) is removed; this makes the teeth appear in better proportion to the smile. In the opposite case — where the teeth appear too "long" due to receding (shrinking) gums, tissue can be grafted (added on) to the gums. Gum recontouring procedures are used to re-shape the gum line for a more even, pleasing effect.
Q: Are there non-cosmetic reasons for having gum surgery?
A: Yes. A tooth with too much of its root area exposed is often more prone to decay, and may become extremely sensitive to hot or cold. Covering an exposed root with gum tissue is just one non-cosmetic reason why gum surgery may be necessary.
Q: What's involved in gum surgery — do I have to go to the hospital?
A: Cosmetic gum surgery is normally performed in the dental office, and usually involves only a local anesthetic. However, if you need a deeper level of relaxation, other forms of sedation may be available. In some cases, lasers can be used instead of conventional surgical tools to remove excess gum tissue. If you need a tissue graft, the grafting material can be taken from your own mouth, or may come from donor tissue that is processed to ensure your safety. Gum surgery is minimally invasive, and most people experience only minor discomfort.
If you'd like to know whether cosmetic gum surgery could help you get the smile you've always wanted, please contact us or schedule an appointment for a consultation. You can learn more by reading the Dear Doctor magazine articles "Gummy Smiles" and "Periodontal Plastic Surgery."
By North Creek Dental Care of Naperville
April 09, 2015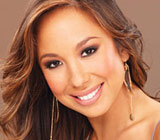 Growing up with a dentist stepdad, Cheryl Burke of Dancing with the Stars heard a lot over the years about the importance of good oral hygiene — in particular, the benefits of using dental floss.
"My dad would say, 'make sure you floss,' but I never really listened to him. I was very, very stubborn," Cheryl told Dear Doctor magazine recently in an exclusive interview. Cheryl admits this stubbornness took its toll, in the form of tooth decay. "I definitely had my share of cavities," Cheryl recalled.
Cavities can form when food particles, particularly sugar and carbohydrates, are not effectively cleaned from the spaces between teeth. These particles are then broken down by bacteria naturally present in the mouth, resulting in the production of acids that attack the tooth enamel.
When she reached her twenties, Cheryl decided she really needed to step up her oral hygiene and cultivate an asset so important to a professional dancer: a beautiful smile. And once she did, cavities became a distant memory.
"I think when you do floss frequently, it helps to reduce the chances of getting cavities," Cheryl said. "It took me a while to figure it out." Now Cheryl flosses after every meal. "I carry floss with me wherever I go. I have no shame busting out my floss in the middle of a restaurant!" She declared.
Dental decay is actually a worldwide epidemic, especially among kids. Untreated, it can lead to pain, tooth loss, and, because it is an infectious disease, it may even have more serious systemic (whole body) health consequences. The good thing is that it is entirely preventable through good oral hygiene at home and regular professional cleanings here at the office.
If it has been a while since you or your children have seen us for a cleaning and check-up, or you just want to learn more about preventing tooth decay, please contact us to schedule an appointment for a consultation. If you would like to read Dear Doctor's entire interview with Cheryl Burke, please see "Cheryl Burke." Dear Doctor also has more on "Tooth Decay: The World's Oldest & Most Widespread Disease."